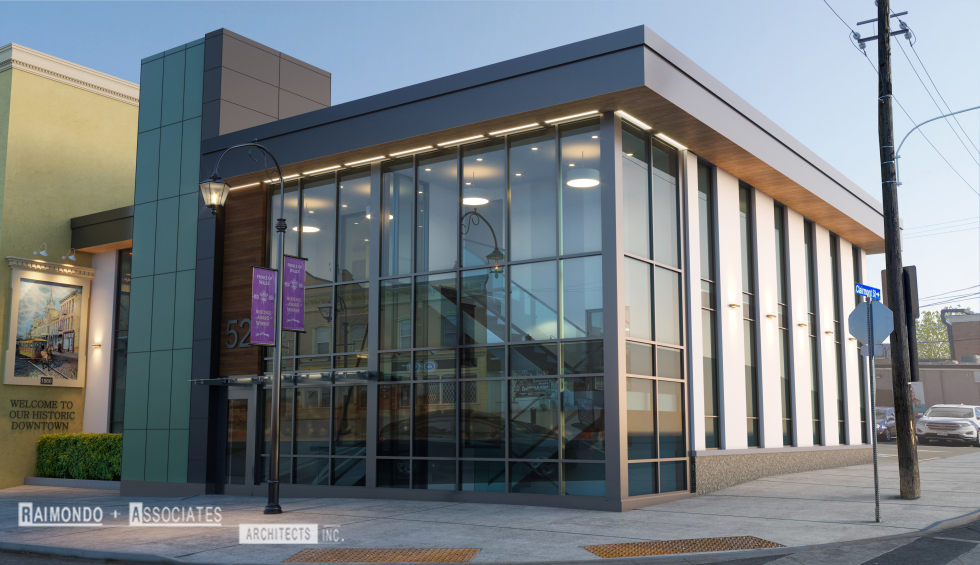 Construction Starting on New Dental Office in Downtown Thorold

---
January 12, 2022
Raimondo + Associates Architects is pleased to reveal the design of the new SmiLEE Dental office, currently known as Pine Street Dental. The project is a 577 square metre dental office relocation poised for the corner of Front Street South and Clairmont Street in Thorold, Ontario. The plan sets to renovate a former 2 storey RBC Bank building and optimize it for a new dental office. Work will include extension of an existing mezzanine to a full 2nd floor space, addition of an elevator and new fully glazed entrance atrium and stair.
With accommodations for up to 4 licensed dentists, this dental facility will incorporate 1 Dental Surgery Room, 7 Operatory Rooms and 7 Dental Hygienist Rooms, spread over 2 floors and full basement. The new glazed atrium carries the rhythm of the existing vertical strip windows and provides a sleek contemporary update to this locally significant Thorold Downtown corner. While seeking to upgrade the practice and the neighbourhood, the project stands to symbiotically benefit from and contribute to both.
Construction is starting in January 2022 and is expected to be completed by September 2022.