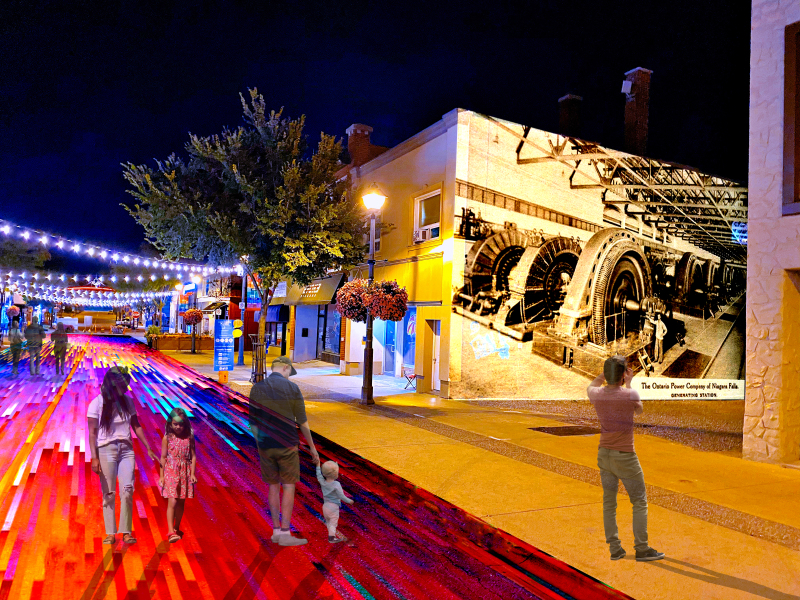 RAAI's Submission to the Main Street Design Challenge

---
October 5, 2020
Recently, the team at Raimondo + Associates Architects Inc. (RAAI) submitted to the Main Street Design Challenge, which is a coordinated engagement effort for all Canadians interested in design to envision the future of Main Streets. The goal was to develop, investigate and provide design solutions for Canadian Main Streets that can be implemented during the recovery and post-pandemic.
RAAI's submission titled "Projection Perceptions: An Immersive Downtown Niagara Falls" focuses on the usage of projection mapping to draw visitors to main streets.
The City of Niagara Falls has a history of using light to great effect to demarcate the Falls. Light excites and has been proven to alter moods, behaviour and create a greater emotional engagement with narratives.
The historic Queen Street district in Niagara Falls is the downtown core that offers a rich sense of place. Just minutes from the major tourist district that sees upwards of 8 million tourists a year, Queen Street was once a bustling hub of the city. Like many downtown cores, momentum has swung in the opposite direction since the COVID-19 pandemic.
This proposal showcases projection mapping as an innovative means to draw visitors to main street locales. Creating immersive environments by projecting entire visual stories, art or history on the built environment adds a new level of energy, impact, and emotional connection to downtowns. At the heart of the design concept is the notion of viewing, the gaze and interpretation. Projection Perceptions is a journey; the spectator becomes part of the spectacle, by which the viewer can select, arrange and find meaning from the images, stories or views being projected. The design proposal demonstrates a way to increase visitor engagement and traffic on main streets, diversify revenue and stay relevant as people are drawn away from indoor spaces amid adapting restrictions due to the COVID-19 pandemic.
This design proposal also demonstrates awareness of historic buildings and their potential new role as beacons for spectacles, offering another path towards the preservation and revitalization of downtowns.
To read more about our proposal see it here on the Bring Back Main Street website.